Limited Time
FREE Shipping - U.S. only

Ride further, faster and in more comfort with BiSaddle.

Custom adjusts to fit your body type and riding style.

For all cyclists including men, women and road, tri, mtb.
Get ready to experience the Best Bike Rides of your life
✔️ Tired of hot spots & saddle sores?
✔️ Want to ride further, faster?
✔️ Want to stay in aero longer?
✔️ Want a tunable custom fit saddle?
✔️ Want to ride without numbness?
✔️ Now is the time to get comfortable!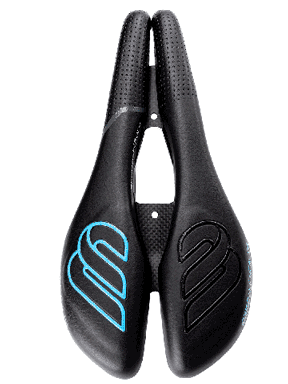 What makes BiSaddle different?
Every body is different. Off-the-rack bike seats fit just a handful of people. For the rest of us, we've had to compromise. Riding an off-the-rack bike saddle is like wearing shoes that are too small or pants that are too tight.
You can adjust the shape of BiSaddle to custom fit your body and riding style. And, if your riding style or body shape change, you can simply re-adjust for ultimate comfort.









CONQUER 100 "The Iron Cowboy"
James Lawrence "The Iron Cowboy" is the world record holder for completing 50 full distance triathlons in 50 consecutive days in 50 different states and the NEW world record holder (2021) for completing 101 full distance triathlons in 101 consecutive days. With that much cycling James was bound to feel every painful saddle rub, bump and pressure point. Before BiSaddle, James would go numb within 30 seconds of riding in aero. For the Conquer 100 James rode the SRT 2.0 all 101 days.
With BiSaddle, James has been able to adjust its' shape to alleviate hotspots, adductor rubbing and achieve no more numbness when riding in aero. BiSaddle has become the most comfortable saddle James has ever ridden.
Frequently asked questions

Women have found BiSaddle to provide comfort when no other saddle could. Click Here for reviews from women.

Men have used BiSaddle to increase blood flow and reduce numbness. Click Here for reviews from men.

How wide or narrow is BiSaddle?
The rear adjusts from 132mm to 185mm. The front adjusts from 40mm to 75mm.

How do I adjust BiSaddle?
Simply loosen the 4 bolts on the underside of BiSaddle and slide the rear and front to your desired width, then retighten bolts.

Not only can you adjust the width of BiSaddle, but you can also adjust how round or flat each side is. This provides every adjustment needed to get a perfect fit.

How much does BiSaddle weigh?
The BiSaddle most comfortable bike saddle varies from 275 grams to 340 grams depending on your base selection.

How about MTB, Tri, Road etc?
Cyclists from all backgrounds can enjoy adjusting BiSaddle to provide a fit that reduces rubbing, saddle sores and numbness.

Pressure mapping has shown BiSaddle to relieve pressure and increase blood flow in all riding positions.
Get your BiSaddle in 3 easy steps

Select your surface and frame

Add BiSaddle to your cart

100% Money Back Guarantee

Even a small amount of pain, numbness or discomfort in your unmentionables can lead to serious long term damage. Studies have found that 1 in 5 men suffered with numbness for up to one week after a long distance bike tour ride. If you are training or riding long distances, then don't risk your health any longer.
The same goes for women. Prolonged numbness and pain while riding can often lead to surgery or chronic pain later in life.
It is time to get the most comfortable bike saddle! You can adjust the shape of BiSaddle to make your saddle feel invisible! Don't wait any longer to ride further, faster!
Get your free BikeFit Guide from the leader in fitting "BikeFit"
Enter your email to download your Bike Fit Guide
Your guide will be sent to your email address. We will never send spam and you can unsubscribe from our emails at anytime.